Cyclists I've Met - Part Deux
Throughout my ride I always come across other cyclists - this article introduces cyclists I have met on the second part of my journey from Alaska to Argentina. To see the cyclists I met on the route from England to Japan please click here.
Alex and Finn - The firs guys I met in North America, heading south from Prudhoe Bay all the way to Panama - hopefully we'll bump into each other again on the ride down.
Kokoro Ito - I met Kokoro in Whitehorse and we rode together for a week on the Alaska Highway. A native of Japan on the last leg of a 4 year round the world trip, Koko is headed towards South America so I'm sure we'll bump into eachother again over the coming months.
Mike and Jenna - I stayed with Mike and Jenna in Vancouver. They were both attempting to cycle across Canada, met on their second day, fell in love and cycled from Vancouver to Argentina for their honeymoon!
Alex and Nick - Ok, so they don't have a blog but Alex complained when I didn't put him up here. I rode with them from Washington to San Francisco - and a very pleasurable time it was too.
David Shirley - I rode with David for 5 days down the Pacific Coast Highway - crossing the US in aid of Livestrong David is a strong rider and averages a broken spoke a day!
Shao Ming – I met Shao at the Bay in San Diego during my time down there with my family. When I met him he was selling his paintings to local tourists and my Mum took a water colour of Bodega Bay! He's a Chinese guy with 2 previous long haul trips under his belt and who has just started a 3rd ride from San Francisco to New York. (His blog is in English by the way!)
Josh and Greg - I met Josh and Greg in Guerrero Negro and spent a couple of weeks to Tepic in their enjoyable company. They left Washington a couple of days after I had in October and we've seemingly missed each other several times on the way down. Most dissapointing is that it's from them that I learned two months too late that it's legal to ride naked in Oregon.
Mark Doherty - I met Mark on a back road near Veracruz, Mexico as he was on the last leg of his tour to Cancun. Apparently the first Irishman to cycle around the world!
Robert Seto - I met Robert as him and his bicycle were getting off a bus in Antigua, Guatemala. He claims this isn't cheating as he was hiding from a cyclone so I'll let him off. He's a Canadian cycling from Panama to the U.S. Mexican border, which is part of a 30 year (no, seriously) project to ride around the world.
Harold Evans - I met Harold at the Nicaragua - Costa Rica border and one of the first things he said to me was 'you're not what I expected a round the world cyclist to look like, you don't look very hardcore.' But I'll forgive him for that - a perfect English gentleman who was cycling from Tierra Del Fuego to Mexico City.
Antoine - I met Antoine (I have absolutely no idea what his surname is) on the road in Panama - he's from France and was riding a recumbent in the general direction of north.
Rem Lafreniere - It doesn't matter what you do, someone will always do it quicker. Remi is aiming to cycle the most northern, eastern, western and southern roads of the Americas all in a calendar year. He started from his home in Montreal and I met him on his 100th day on the road in Colombia, in which time he'd already cycled 22,000 kilometres from Montreal to Alaska and then south. He aims to do those 4 points and get back to Montreal all in 365 days - the total distance of which will be 65,000 kilometres. Why not slow down and take a break?
Juan from Spain and Parys from Poland - These guys were travelling together in Ecuador when I met them (which is why they only get on photo). Juan from Spain was headed from Ushuaia to Alaska, as was Parys (I think - we were speaking in Spanish so the chances are I misunderstood) - they also gave me the useful tip of sleeping in firestations on the road - excellent advice.
Luis a.k.a. 'El mono en bici' - I stayed with Luis - an Ecuadorian cyclist - and his wonderful family during my time in Quito. He doesn't have his own blog and whilst he didn't complain when I didn't put him on here, he did make the simple observation that he deserved to be here - so here he is! 'El mono en bici' translates as 'The monkey on a bicycle' if you were wondering....
Martin Garea-Balado - I met Martin in Banos, Ecuador. He's an English guy cycling north from Ushuia. I was impressed when he told me he'd started in Ushuia in January, meaning he'd ridden through the ridiculous headwinds but then he told me he climbs hills by holding onto the back of trucks - which is of course cheating. I'm kidding of course (about it being cheating, he really does hang on to the back of trucks) but Martin is on his way north, heading as far as he can get till his money runs out.
Simon Whitehead - I met Simon in Trujillo after he'd just been robbed by the famous bandits of Paijan, Peru. He'll appreciate me reminding him that he'd been just lost a pannier which contained not only his laptop but also a lot of his pictures from his trip, however at the time I'd also just had my camera stolen so at least we had some stuff in common. He's an English guy on a 6 month trip from Ecuador to Ushuia and I should hopefully be riding some of the way with him, where I'm sure we'll be robbed several times together on our way south.
Pablo and Paula - I met Pablo and Paula as they were headed to Copacobana, Bolivia. They are an Argentinian couple from Cordoba who are headed north to Mexico and did so with the aid of a radio blaring out as they traveled - I like their style.
Patrick - I met Patrick as he was headed off north into the Bolivian jungle as I was heading into La Paz. I had the tailwind and he had the headwind - but the good news is he's turning round soon and I hope to bump into him on the road south to Ushuaia.
Fraser and Cole Pettifor - Two brothers from Canada (yet more people who don't have a blog unfortunately - the third cyclists in a row I've met who don't) who if memory serves were headed from Buenos Aires over to Lima. We met on the road just outside of Oruro, Bolivia.
Erik from Russia - How often do you meet a Russian cyclist? The correct answer is never, so to have met Erik was a pleasant surprise. From Moscow, he's on a tour around South America. We met in Sucre where we both had the same problem of trying to fix a bike on a Sunday, a day when Bolivia is pretty much closed.
Dylan Kentch - I met Dylan, a baker from Anchorage, Alaska a day after my ill-fated Paraguay excursion. He was headed to Paraguay and had actually bothered to research the correct road to take so we rode to Villamontes together where he went to Paraguay and I went off to Argentina. He's on a single speed bike riding from Seattle to Ushuia. 
Nat and Matt -I met these guys in Los Andes as they were headed up the big climb towards Argentina and I was off south to Santiago. We're all headed the same way south so hopefully I'll bump into them again on the ride down. Nat is from Canada, Matt from America.
Chris and Margot - These guys from Canada were actually in Thailand the same time as me back in January 2009 - they're a Canadian couple (although Chris is English) who started in Santiago and are heading south - I'm sure I'll bump into at least one of these groups of people again at some point.
 Ania & Kris - How have I only just put these guys up? I met Ania and Kris months ago back in Loja, Ecuador - but for some reason never got round to adding them here. I bumped into them again in Mendoza and plan to do so again in Chile - they're a Polish couple riding indefinetely. Interesting people - shame the website is in Polish.
Gregoire, Sibylle and Baptiste - Gregoir and Sibylle are a French couple accompanied by Baptiste, Gregoire's brother, who is by far one of the most impressive people I've met on my travels. Disabled from the waist down, Baptiste is riding a 'handbike' (yep, riding with your arms) across South America. Website is in French.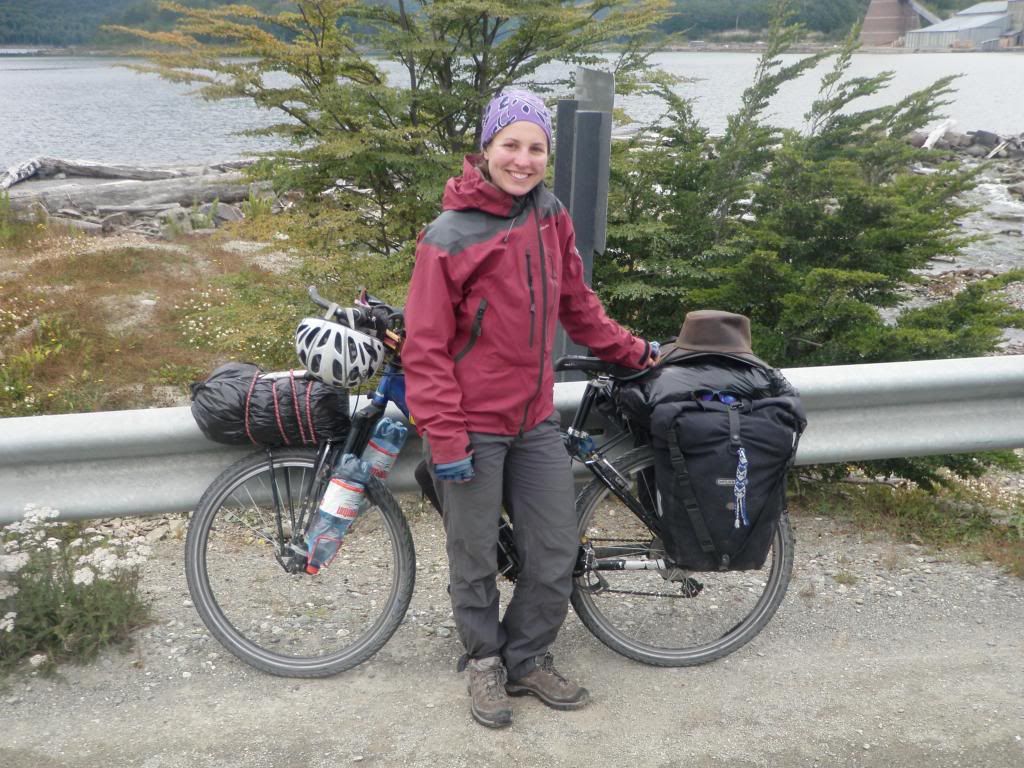 Coralie Le Rasle A.K.A. La Bicicletalatina - It took a while but we have the first female solo cyclist I've met in South America - I met Coralie the day before i arrived in Ushuaia. A French girl who's cycled down from Colombia to Ushuaia over the last 11 months, her story is even more amazing given she had her first bike stolen back in Bogota. She didn't let that get her down, she got herself a new bike and is now in Ushuaia with one eye wandering towards maps of Africa . An impressive lady.
Jason Dawson - One of the last cyclest I'll meet in South America, I met Jason 200km before Ushuaia (and again in Ushuaia). He's an Englishman who'd been touring through Chile and Argentina and in the yellow rain jacket with yellow panniers he's by far the brightest cyclest I've ever come across. Jason also has a Thorn Nomad of which I'm quite jealous of.
Marcus Hill - An Aussie who lives and works in Japan, Mark's tour takes him north from Ushuaia up to the to of Argentina. I'd just ridden south with 1,000km of tailwinds when I met him, so good luck on that long northbound ride! Unless something very unexpected happens, he'll also be the last rider on this page.